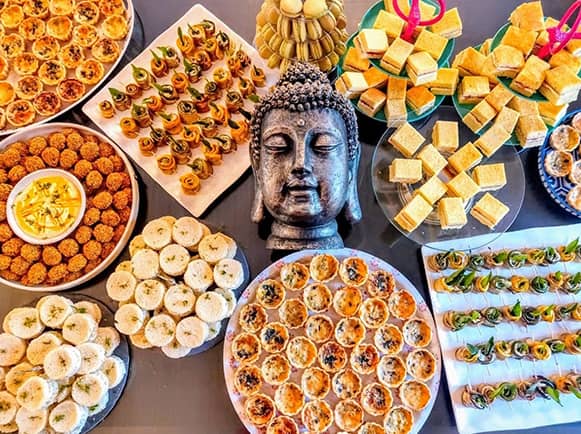 Brown's Food Works
18/1A Ballygunge Place East
Aryan Ground Floor
Kolkata – 700019
P: (033) 40006562
Whatsapp # : +91 9903661704

Sumita Dutt (Mimi)
2023-01-22
Ordered in for 20 and was floored by both the presentation and quality of food!
Outstanding caterers. The Tiramisu cake and the chocolate Frasier are simply divine
Browns is fantastic, got food catered and enjoyed everything
anushree goenka
2022-12-29
Awesome. Fabulous
I had heard so much about Browns and so glad it matched up to all the hype. Best Tiramisu entremet ive ever had
We wanted a gourmet breakfast spread at home for our mother's birthday and got in touch with Brown's for this. The founder, Vanita curated a special menu for us keeping our occasion and ideas in mind. The spread included blinis, savoury waffles, roasted pepper salad, assortment of breads and croissants, egg/cucumber cream cheese and dill sandwiches, a strawberry and vanilla tart and eggs to order by their chefs. Everything , from the quality of ingredients to the taste and presentation of food to the professionalism of the chefs was so so good and impressive! Highly highly recommend to anyone looking for a special meal to share with their loved ones ❤️
It is the best place to order food from ... The food tastes are great and worth it at the same time
SURAJIT SADHUKHAN
2022-10-19
I ordered the Coffee Almond Gateau and it was just awesome. Have it and enjoy one of the best taste in Kolkata.